(READ TO THE END FOR A GIVEWAY AND DISCOUNTS!)
I made Christmas pillows on Black Friday. I made them because I went to Target the Wednesday prior and was having difficulty resisting the siren call of artfully arranged Christmas decor. I picked up the table runner a few times, mentally redecorated my dining room around it and the matching napkins, and then remembered that I had JUST written a blog post about having less stuff.Â
Also – it turns out when you make a concerted effort to know who makes your things, you are less inclined to buy things potentially made on the backs of sweatshop workers in hazardous, dilapidated factories. Dulls the shine a little on those glittery pillows.
So I went home, dug through my stash, turned up a beautiful queen sheet a little ragged on the edges, and combined it with woodland christmasy fabric, oil paint sticks, hand cut stencils, and pillow forms pilfered from all the rooms. Because, well, I still kind of wanted Christmas pillows.Â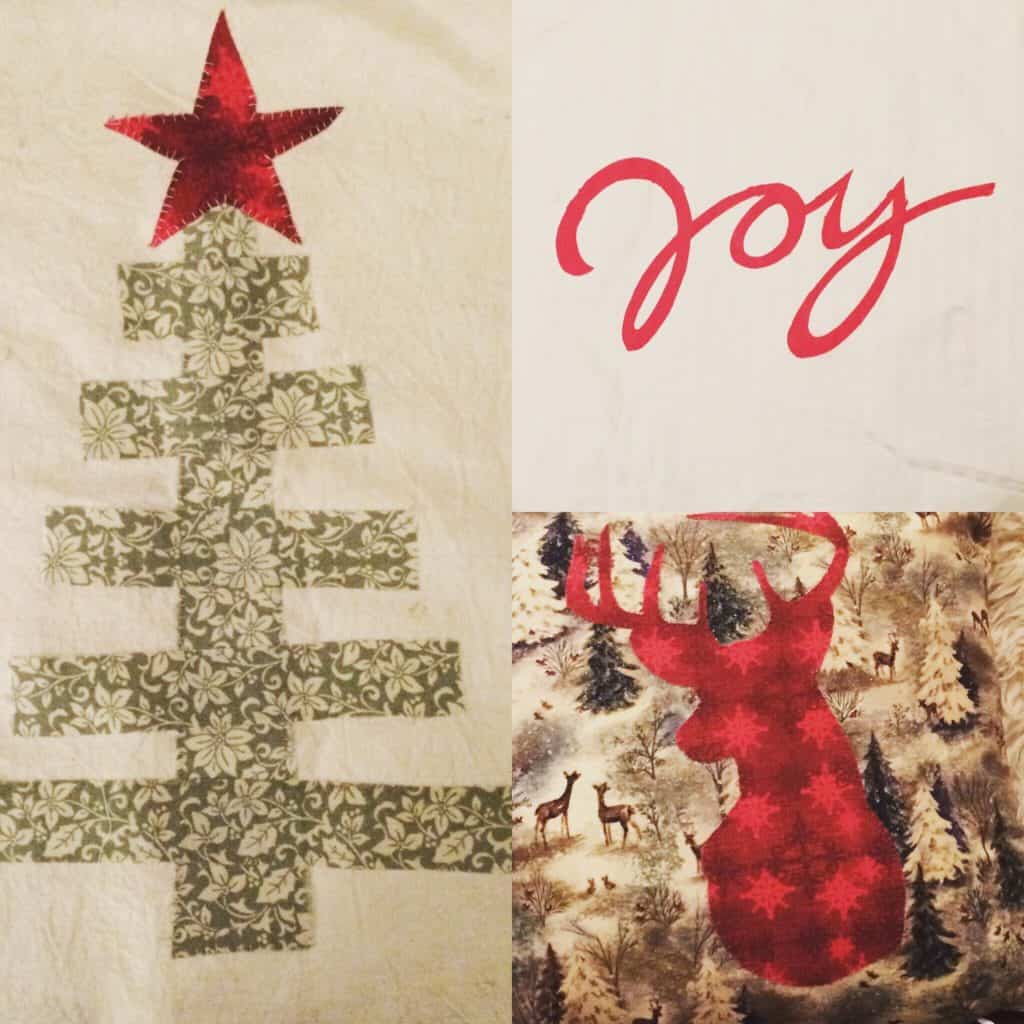 So why am I telling you about Target runs and Christmas pillows? Â (Other than for internet validation…kidding. Sort of.)
It's #FairTuesday today, and you have the power to make a stand with your wallet. To amplify the voices of hardworking, creative artists, laborers, and farmers around the world. You affirm the value of their time and talents by paying a fair price for the products they produce.
Enter Karama.
"Karama, an Arabic word meaning dignity, was founded on the principle that individuals thrive when given opportunity to provide for their families through creative, purposeful work."
I discovered this organization through She Speaks this summer, and maybe you know this about me, maybe you don't, but I am a HUGE fabric snob. So when I saw their piles of cotton bath and hand towels, it was all I could do not to just grab a bunch and cocoon myself in them. You're welcome Karama, by the way, for me controlling myself. Anyway, I did buy myself a few birthday presents "from" the husband and I want to share their story with you. It's kick – off time for holiday shopping, and I would love for you to put your money where your heart is.
Karama is a nonprofit social enterprise, reinvesting their profits in artisans through product purchases and donating a minimum of 15% of total sales revenue each year to YoungLife Africa, a youth-empowerment organization that reaches out to young people and builds leadership skills while sharing the teachings of Jesus Christ. (I was a Young Life leader in college-this is near and dear to my heart). They are committed to ensuring artisans are paid a living wage; therefore, the organizations and artisans, not Karama, decide payment for work and products.
And let's talk about these products. You should really go to the website and look around – I want to talk about all the things, but I am sticking to my Fair Trade Friday rules and talking about actual things I purchased. I splurged on this poncho.Â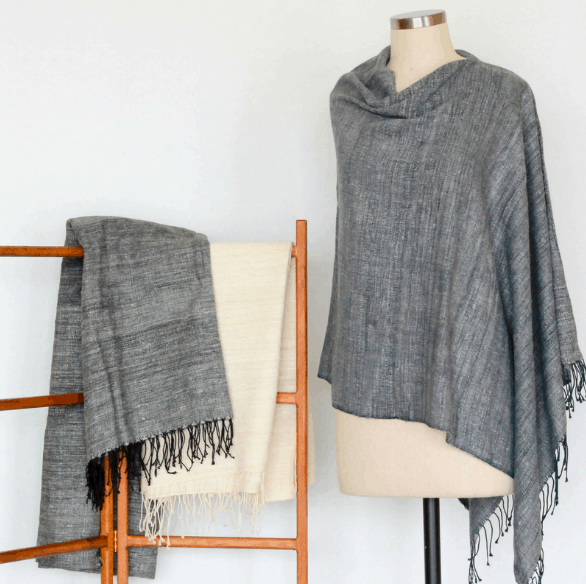 Look! It's me in the wild. And the poncho in real life.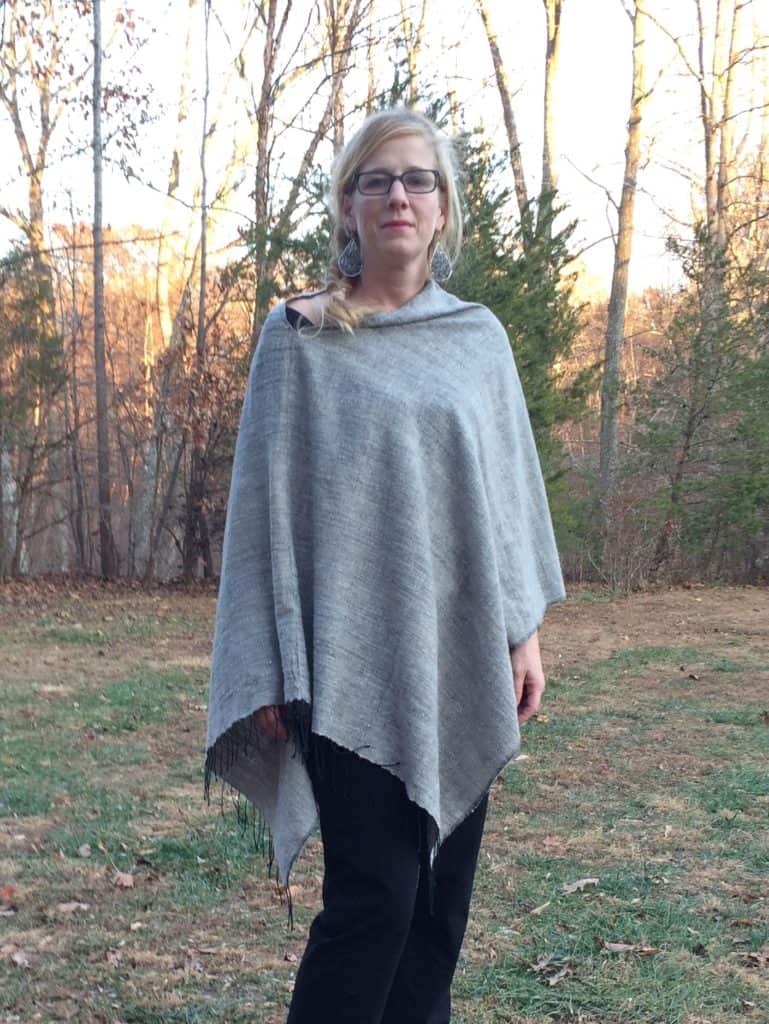 I wear this so much. I am slightly obsessed. I wore it to a publisher interview (no book contract, but who cares, I looked fabulous!), a marketing conference, and basically every Sunday at this point. It falls well within my current fashion guidelines – "Look like I made an effort, without actually making an effort." See also, Noonday jewelry. I have said it before, and I will shout it from the rooftops. These aren't charity buys. I am so excited to wear this because it is comfortable, looks stunning, and is made with impeccable quality.
Speaking of jewelry, Karama also produces a collection made from recycled brass and I'd love to show you the Walk the Line earrings.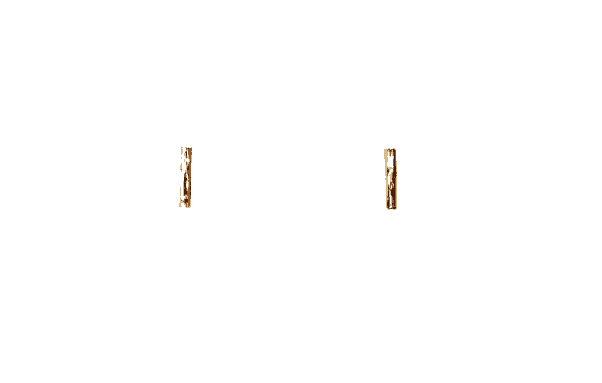 These are perfect for day to day, paired with my go to messy bun, printed t-shirt, and skinny jeans, Bam. No effort. But accessorized! (This pair, though, this pair MIGHT be in the stocking of a certain nine going on nineteen year old who wants to grow up SO BAD. Not dangly, but more than a pair of studs, these fit my in-between girl just right. (Full disclosure, I was given the earrings for free in exchange for my unbiased and honest review, but all opinions are my own, and you better believe I bought the poncho and the towel with my own dollars because I love them both!)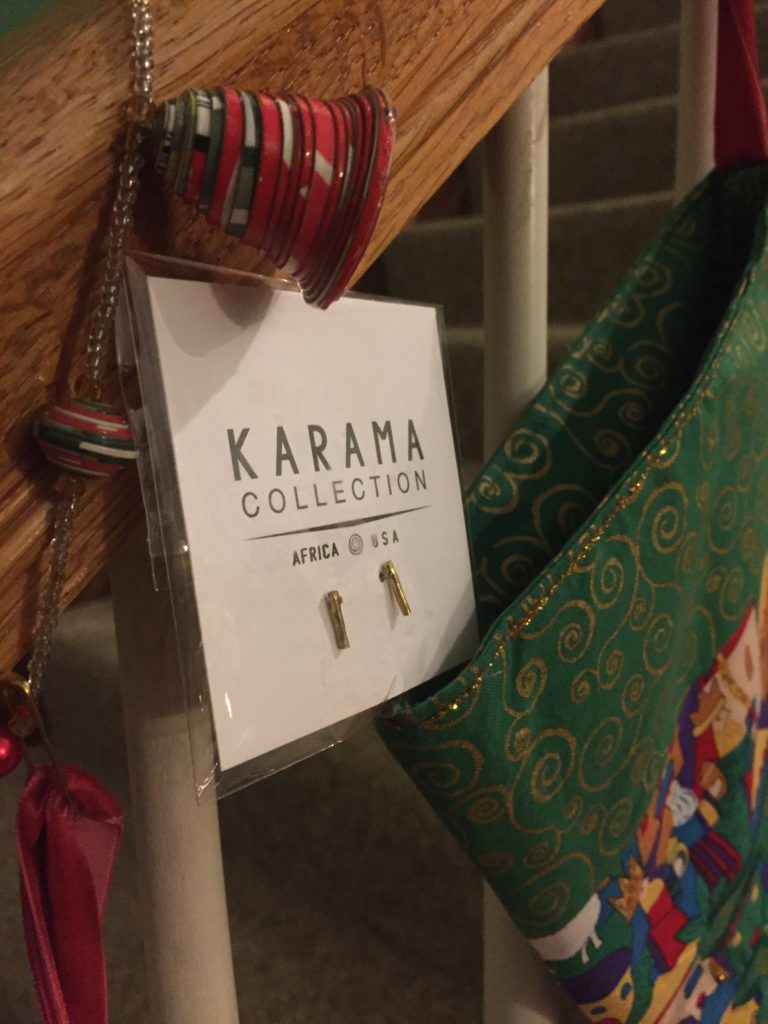 And finally, the towels. Oh the towels. First some real talk. These aren't the cheapest towels in the world, but they are worth. every. penny. I only have one as a kitchen towel, but there is a legitimate line item in my budget to slooowly replace our beach towels with these.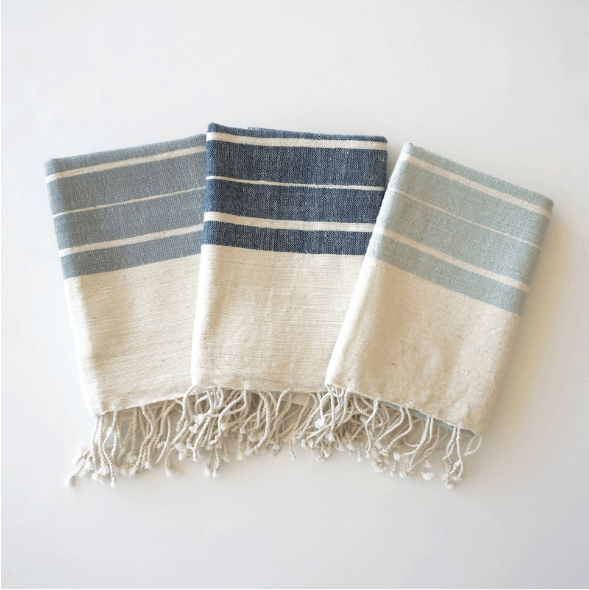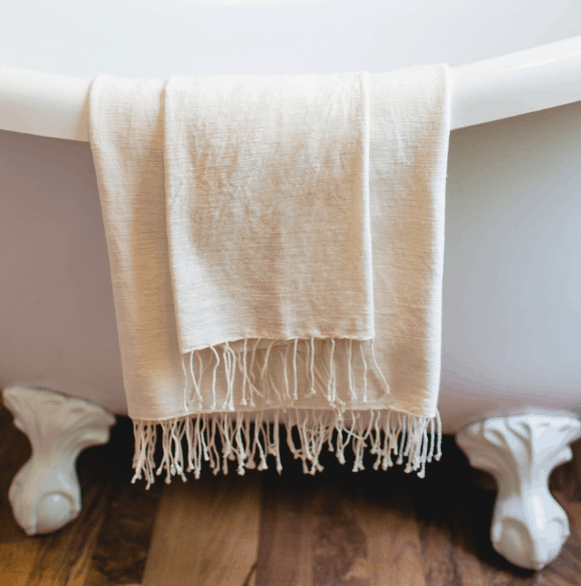 Karama's linens are handspun and handwoven cotton made in Addis Ababa, Ethopia using traditional techniques that date back centuries. Bonus: The more you wash them, the softer they get. They are super absorbent, super soft, and take up waaaaay less space in the closet.
I love the look and feel of my kitchen towel – it occupies the prime real estate on my oven door handle. Also, works well when baking loaves of crusty french bread. Road tested, kitchen approved.Â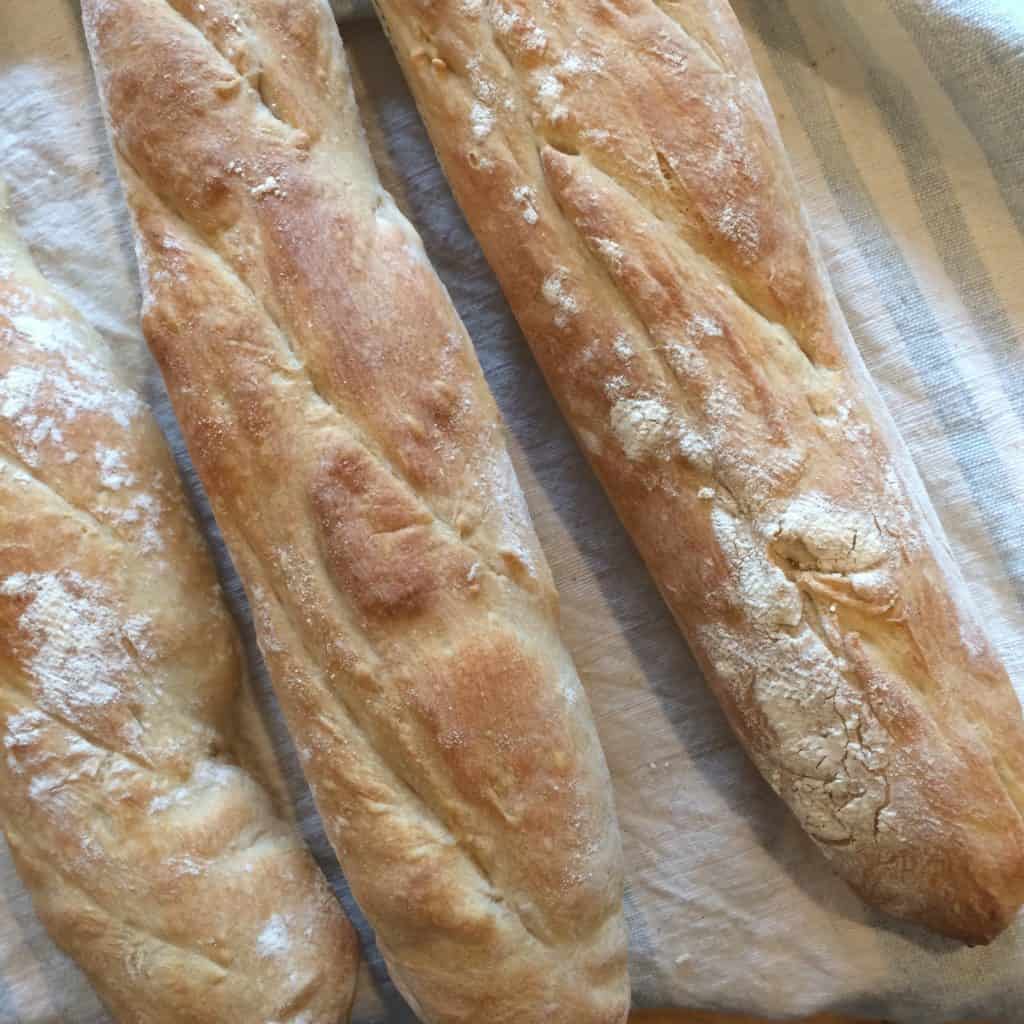 Again, not charity buys, these are beautiful, functional products getting consistent use in my home.
Please, take the time to shop Karama and consider buying Fair Trade gifts this holiday season. They offer Christmas ornaments, jewelry, leather goods, natural body care, and all sorts of beautiful linens.
You can also hear some of the artisan stories and see their creative process in detail through photos and essays.
I mean it, friends. Put your money where your heart is this holiday season. Shop fair trade, local, recycled – Â not just today, every day, every way that you can.
BONUS IF YOU MADE IT TO THE END: I am giving away a pair of Walk the Line earrings. Share this post, tag me and @Karama collection (@themrshuggins on Twitter and Instagram, Molly Huggins or All The Grace Between on FB) Â and comment for entries. (1 entry per share, plus 1 entry for commenting). Winner will be announced on Friday. AND – use this super secret discount code HUGGINSSS16 for 15% off when you shop the Karama Collection.Â
Also, YAY – it's almost December and this story-collector thrills to what is unfolding without fail this holiday season. Slow down, breathe deep, gather your loved ones close, and tell His Story.
~M.